Hi Folks,
It's been two weeks since Election Day and the vote counting continues! This edition of CVF-News highlights several important developments:
California ballot counting status and turnout;
Ballot cures and rejections; and
Election security and transparency achievements.
Congratulations to all the election officials and staff who worked (and continue to work) long hours under extremely challenging conditions to pull off this historic election conducted during a global pandemic. Democracy only works because you do. Thanks also to the millions of voters who turned in their mail ballots early and helped inform their friends and neighbors how to vote safely this election!
- Kim Alexander, President & Founder
California Voter Foundation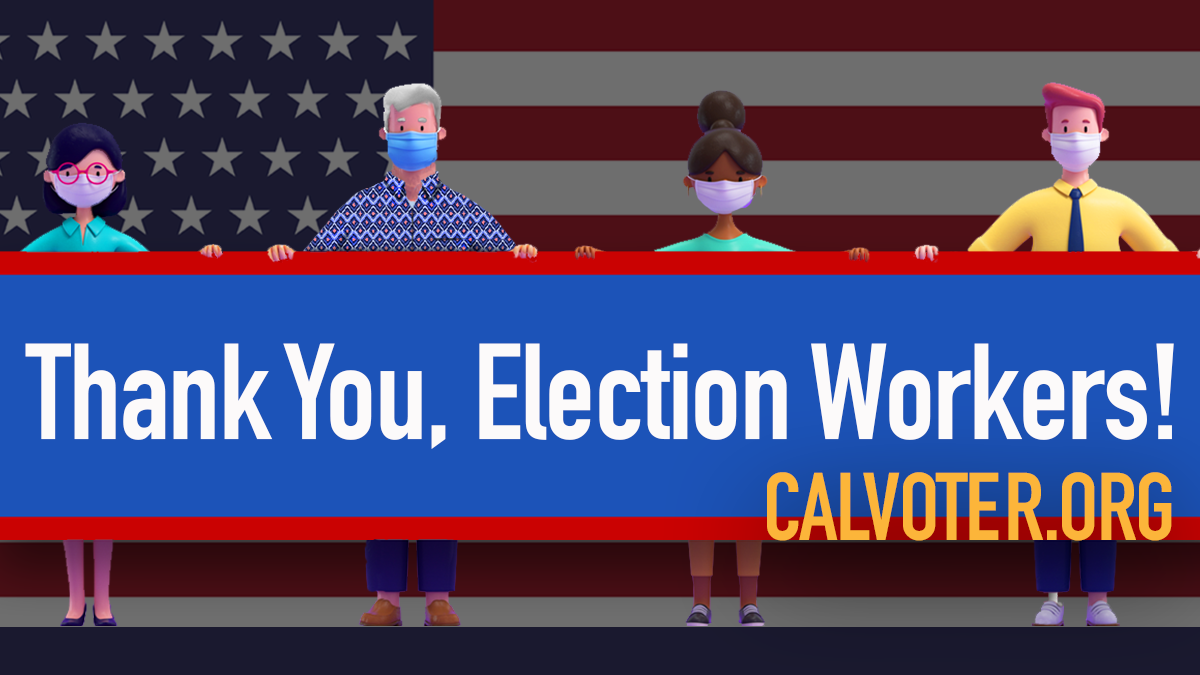 California ballot counting status and turnout
Statewide election results are posted and continuously updated on the California Secretary of State's web site. As of today, approximately 17.3 million ballots have been counted and another half million ballots remain to be processed. California will certainly have a record turnout in terms of total ballots cast. Based on the most recent report of registration, it is looking like turnout will be around 80 percent of 22 million registered voters and 71 percent of 25 million eligible voters. This would be the highest turnout of eligible voters since 1952 and the highest turnout of registered voters since 1976.
Ballot cures and rejections
California's voter turnout could climb even higher if voters check to ensure their mail ballots were received and accepted.
There is still time for voters who forgot to sign their ballot envelopes or whose signatures were found to not sufficiently match their voter registration signature to submit a new signature and get their ballot "cured" and counted instead of rejected.
A preliminary review of challenged signatures conducted by Political Data, Inc. found that at the point when 14.5 million mail ballots had been processed, approximately 21,000 of 50,000 ballot envelopes with nonmatching signatures and 5,000 of 14,000 envelopes with missing signatures had been cured by voters.
Counties have been mailing notifications to voters pre- and post-Election Day and voters have up until two days before their county certifies their results to submit a valid signature (in most counties this deadline is Dec. 1). Voters can verify if their mail ballot was accepted through the BallotTrax web site or by contacting their county election office by phone or using their county's online lookup tools. Many counties provide the form needed to download, sign and print to cure a mail ballot envelope signature on their web sites.
However, there is no cure for late-postmarked ballots. Friday, Nov. 20 is the last day late-arriving ballots can be counted as long as they are postmarked by Nov. 3rd. CVF's recently released rejected ballots report found in Sacramento County's past three elections, most ballots rejected for lateness were due to being postmarked too late, not for arriving too late to count.
A preliminary review of Sacramento's ballots conducted on November 5th found that of the 783 ballot envelopes received that day, 455 of them were postmarked November 4th, one day too late to be counted. There are likely hundreds more ballots in Sacramento County alone that will be received in time but postmarked too late to count. In California's 2020 primary election, approximately 70,000 of the 102,000 rejected mail ballots were rejected due to lateness.
Election security and transparency achievements
This election, despite some unsubstantiated claims to the contrary, is widely considered to be a success in terms of security and transparency. The U.S. Cybersecurity & Infrastructure Security Agency's Election Infrastructure Government Coordinating Council Executive Committee issued a statement on Nov. 12 declaring, "The November 3rd election was the most secure in American history".
CVF and numerous other groups worked for years to outlaw paperless electronic voting which began to be widely adopted after the 2000 presidential election. California lawmakers enacted a law in 2004 requiring voter-verified paper audit trails to ensure results could be verified and post-election audits meaningfully conducted. The widespread use of vote-by-mail ballots in this election also ensured that hand-marked paper ballots - which are the most difficult to hack - were widely used.
As reported in the New York Times, to help dispel the myths that are being circulated about fraud, a group of 59 election security experts - including CVF board members David Jefferson and Joseph Lorenzo Hall - released a joint statement debunking these claims, and providing evidence of the security of the election and its results. As they write:
"We are aware of alarming assertions being made that the 2020 election was "rigged" by exploiting technical vulnerabilities. However, in every case of which we are aware, these claims either have been unsubstantiated or are technically incoherent. To our collective knowledge, no credible evidence has been put forth that supports a conclusion that the 2020 election outcome in any state has been altered through technical compromise."
About the California Voter Foundation
The California Voter Foundation is a nonprofit, nonpartisan organization working through research, oversight, outreach and demonstration projects to improve the election process so that it better serves the needs and interests of voters. CVF-News is a free, electronic newsletter featuring news and updates about the California Voter Foundation's projects and activities.