For nearly two years, the California Voter Foundation has been working to address the rise in threats and harassment of election officials and their staff. We were very pleased that Gov. Newsom signed SB 1131 last week to enact new privacy protections for election workers and poll workers. According to the Department of Justice's Election Threats Task Force, there have been over 1,000 threats received by election workers and reported to the FBI nationwide in the past year, with at least 100 rising to the level of a prosecutable threat of unlawful violence.
To help prepare for the potential for conflict at California voting sites and protect Californians' voting rights this election season, last week CVF hosted an online briefing for local election officials, law enforcement officers and nonprofits called "Peace at the Polls CA." Speakers shared a number of helpful resources, including de-escalation tips, which we have compiled together on one page along with a video archive of the hour-long event. One resource in particular that is extremely handy is Bridging Divides Initiative's one-pager, De-escalation Guidance for Poll Workers. Please see below for more details.
-- Kim Alexander, President & Founder, California Voter Foundation
---
CVF's Peace at the Polls CA Briefing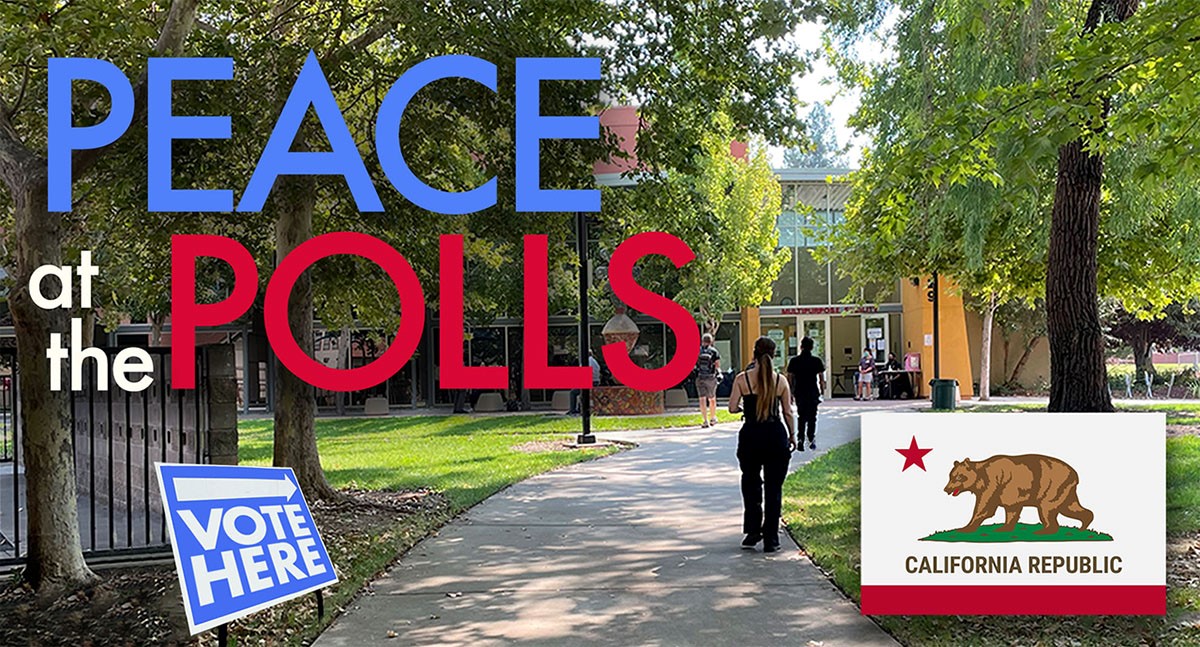 On September 28, the California Voter Foundation hosted Peace at the Polls CA, an online briefing to help local and state election officials, law enforcement officers, and nonprofit election observers prepare for potential conflict in and around voting sites and election offices before, during, and after California's November 8th, 2022 election.
Over 100 local elections office staff and law enforcement officers from 31 counties attended this briefing. A list of the resources shared with attendees is available on CVF's Peace at the Polls CA Resources web page, as well as a video recording of the event.
Speakers included:
California Attorney General Rob Bonta
Neal Kelley, Chair, Committee for Safe and Secure Elections and former Orange County Registrar of Voters 
Ethan Quinn, Special Agent, Election Crimes Coordinator, San Francisco FBI Office
Shannon Hiller, Executive Director, Princeton's Bridging Divides Initiative
Theo Sitther, De-escalation Project Lead, Princeton's Bridging Divides Initiative
Usmaan Alloo, Programs Coordinator, Council on American-Islamic Relations, San Francisco Bay Area Office
Jana Lean and Steve Reyes, senior election staff, Office of California Secretary of State Dr. Shirley Weber 
Moderators: Cathy Darling Allen, Shasta County Clerk-Registrar of Voters and CVF Board Chair and Kim Alexander, CVF President & Founder
Peace at the Polls CA also provided de-escalation tips to help election officials, their staff, poll workers, law enforcement officers, and election observers prepare to effectively handle potential confrontations and aggressive poll monitoring. This event was also designed to strengthen relationships between local leaders and promote communication to help ensure prompt and thoughtful action if necessary to keep the election and vote-counting process peaceful.