Hi Folks,
The 2021 California Gubernatorial Recall Election is behind us and while vote counting and election verification continues across the state, the result was a decisive defeat of the recall question early on Election Night and Gavin Newsom remains Governor of California. 
In addition to conducting numerous media interviews, I co-authored a Sacramento Bee Election Day op-ed with Prof. Mike Alvarez of CalTech explaining why California's election system is secure and how more transparency could help. This edition of CVF-News highlights how CVF and others worked to debunk fraudulent fraud claims, the damage these claims have caused, and what comes next for California's voting and recall processes. 
-- Kim Alexander, President & Founder, California Voter Foundation
---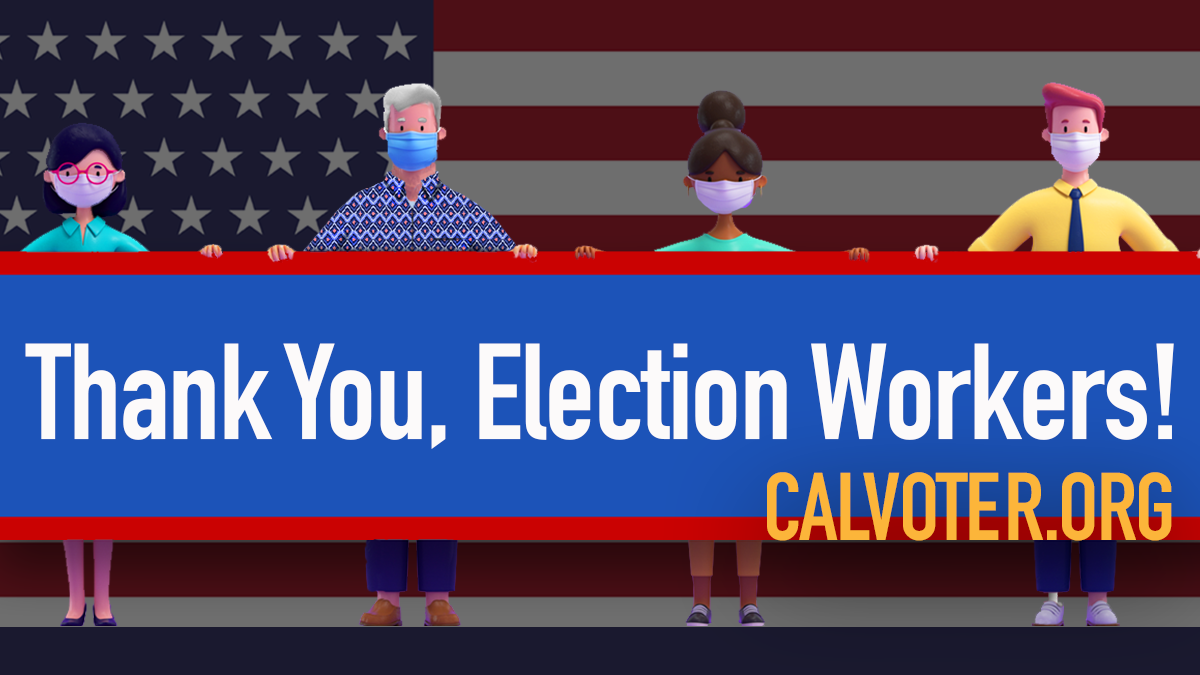 ---
Debunking fraudulent fraud claims
A combination of alarming rhetoric from political figures and basic misunderstandings of election procedures resulted in a rash of state and national news stories and social media posts leading to wild speculation and fraudulent claims of election fraud. 
The top recall replacement candidate, Larry Elder, was responsible for fueling these claims through various tweets, public comments and the creation of a "Stop CA Fraud" section of his campaign web site. Though promptly edited after Election Day, the text of this page (still available thanks to the Internet Archive's Wayback Machine) describes how in "America, there are four boxes of liberty - the soapbox, the ballot box, the jury box, and the ammo box" and goes on to imply violence may be called for when election officials "allow thieves to steal amidst the dead of night and cheat our ballot box". 
The Sacramento Bee's Lara Korte wrote an excellent article following the election about this section of the Elder web site and featured comments from a prominent Republican consultant, Ron Nehring, that this messaging, along with an Election Day statement from former President Donald Trump covered by the Washington Post and other news outlets claiming the election was rigged, depressed Republican voter turnout. 
Other false election claims made on social media platforms were fact-checked by the Associated Press and even internationally fact-checked, by AFP English.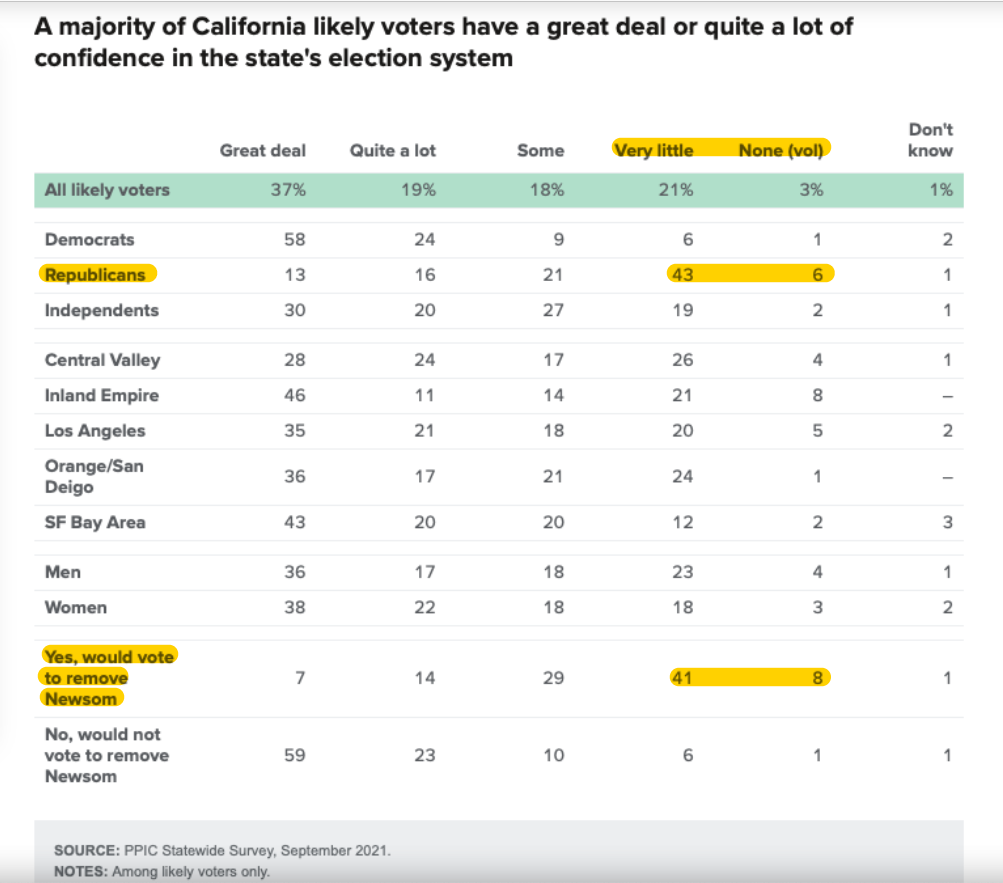 The damage being caused by these fraudulent fraud claims and mis- and disinformation circulating about elections for nearly a year now can be seen in the Public Policy Institute of California's recent "Californians and their Government" survey conducted in August. While overall the survey found 75 percent of California's likely voters have "a great deal" or "quite a lot" of confidence in California's voting system, the crosstabs tell another story: among likely Republican voters, 49 percent - nearly half - said they had little or no confidence in California's voting system. 
California's frontline democracy workers - voting site staff and election officials - this misplaced mistrust translated into verbal challenges and hostilities, as reportedly occurred in Fresno County and covered by the Los Angeles Times. Fortunately the Department of Justice has a newly formed task force assembled to collect and investigate reports of harassment and threats to election officials and staff as well as election vendors and contractors. 
---
What's next for California's election and recall process?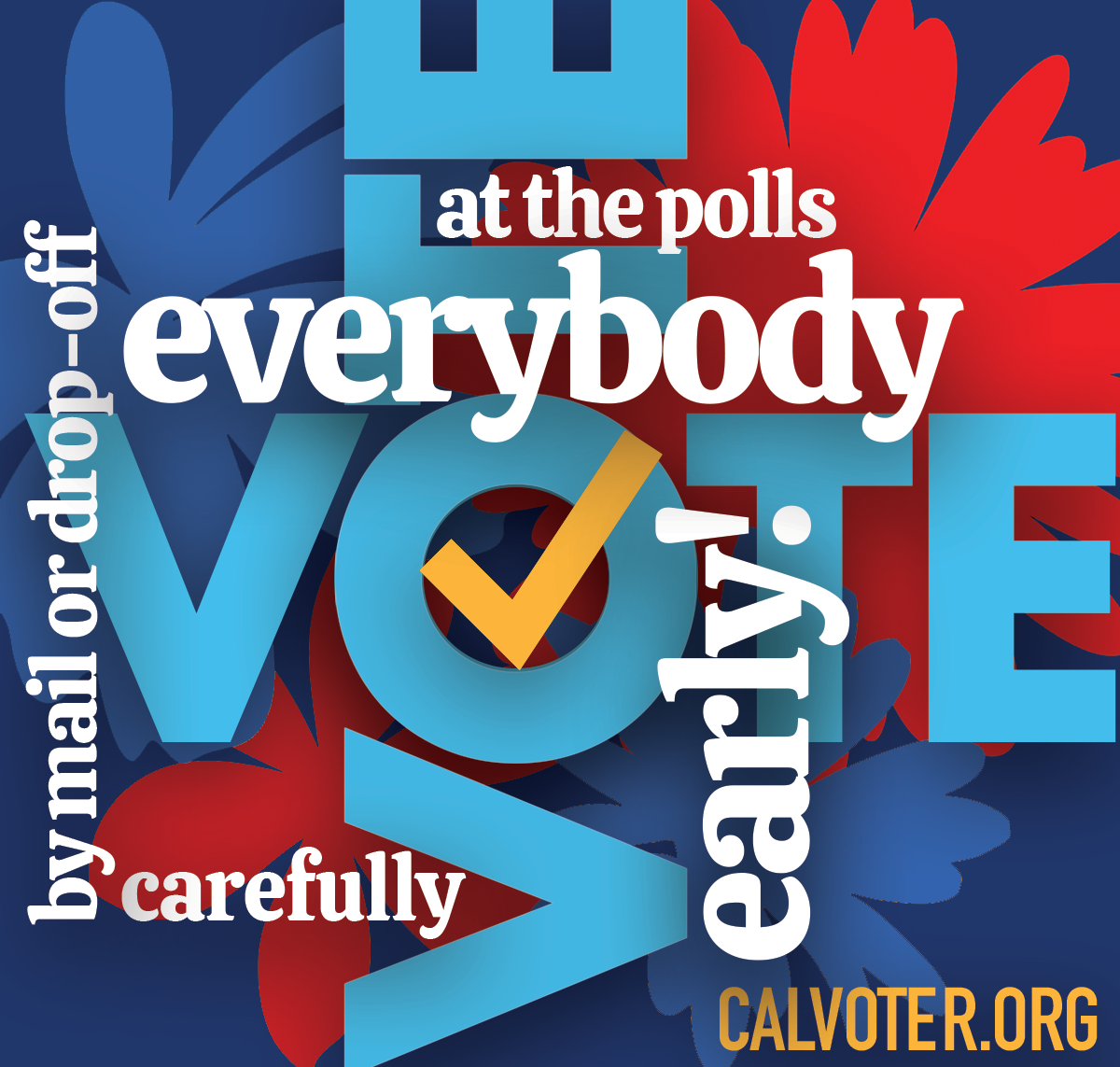 Counties are still counting ballots and verifying results, and must report their final results to the Secretary of State by October 15th, 2021.
Counties are also in the process of verifying their vote counts according to California's post-election audit law, called the "One Percent Manual Tally". This week Secretary of State Dr. Shirley Weber issued a detailed memo explaining this process and that the public can observe audits in their county. The memo includes a template for counties to use to report their audit results to the Secretary of State, which, once compiled and published will bring greater transparency and accountability to California's election verification process. 
Based on the number of ballots already counted and remaining to be counted, it appears about 13 million Californians cast ballots in the recall election, resulting in an impressive 59 percent turnout of registered voters and 53 percent of eligible voters. Voters had numerous ways they could vote in this election, and all active, registered voters were mailed ballots a month before Election Day. Voters could return those ballots by mail (postage paid), drop box or at voting sites. They could also vote in person early and on Election Day (though the degree of access to in-person and early voting varied considerably among the counties). 
Providing this comprehensive access helped increase turnout and the cost of doing so for the recall election is paid for by the California Legislature. The question is, will the state continue to require counties to mail every registered voter a ballot in future years, and if so, will the state keep paying for it? Earlier this month, the state legislature passed Assembly Bill 37, authored by Assemblyman Marc Berman, which, if signed into law by Gov. Newsom, would make mailing every registered voter a ballot a permanent feature of California's voting process. Mr. Berman as well as State Senator Steve Glazer, are also looking at possible legislation to change the recall process itself.
---
About the California Voter Foundation
The California Voter Foundation is a nonprofit, nonpartisan organization working through research, oversight, outreach and demonstration projects to improve the election process so that it better serves the needs and interests of voters. CVF-News is a free, electronic newsletter featuring news and updates about the California Voter Foundation's projects and activities.
Support CVF's work with a tax-deductible contribution!